Newsletter for 7/8/22
by Gideon Lazar
At the Creation Theology Fellowship, we have so far discussed the theological and social importance of Genesis. However, one aspect we have no focused as much on yet is the spiritual importance of Genesis. This struck me recently as I was praying Psalm 143.
David prays this Psalm to deliver him from his enemies. The Septuagint adds the additional note that it was while David was fleeing from his son, Absalom. Absalom had turned against David and sought to overthrow him. When even his own family was against him, David had no one to turn to, so he turns to God in prayer.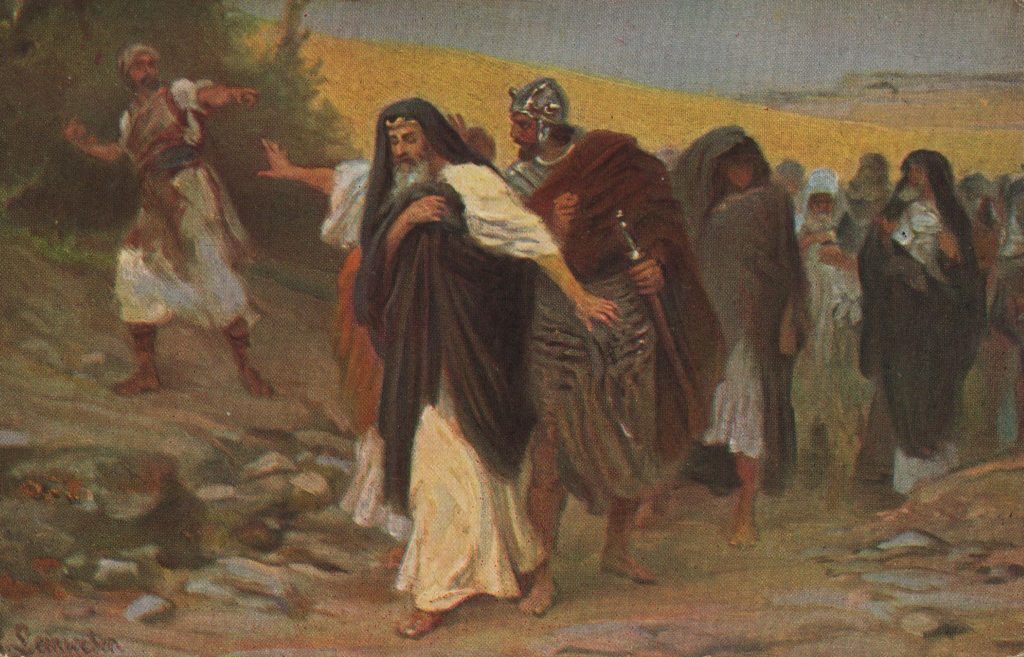 Hear my prayer, O Lord;
give ear to my supplications!
In thy faithfulness answer me, in thy righteousness!
2 Enter not into judgment with thy servant;
for no man living is righteous before thee.
St. Jerome translated the Hebrew and Greek for righteousness as justitia. God's justice and righteousness are revealed through God's faithfulness to us. While David's family has not been faithful to him, God will always be faithful to him. David knows that he himself is not righteous though. But God is faithful to us even when we are unfaithful.
As St. Paul says "What if some were unfaithful? Does their faithlessness nullify the faithfulness of God? By no means! Let God be true though every man be false" (Rom 3:3-4). David asks God not to come to him through justice, for then no one would have hope, but through mercy.
3 For the enemy has pursued me;
he has crushed my life to the ground;
he has made me sit in darkness like those long dead.
4 Therefore my spirit faints within me;
my heart within me is appalled.
David refers to Absalom not by name, but as "the enemy." This is because he is referencing the true enemy of man, the devil. The enemy drives our soul away from God can makes us to sit in darkness. He tries to make us believe that God will not be faithful. Is there any solution to such worry?
5 I remember the days of old,
I meditate on all that thou hast done;
I muse on what thy hands have wrought.
Whenever we are concerned if God will be faithful, we only need to remember what He has done before. He brought the world into being out of nothing. He brought the people of Israel out of slavery by great miracles. He sent His only Son to die for us. If we know God has been faithful before, we can have no doubt He will be faithful again when we are in distress.
This is why defending the inspiration of scripture is so important. If God has not wrought these great works in the past, where are we to find our assurance that He will act in our own lives.
I have found in my own spiritual life, having a deep belief in the historical accuracy of scripture has been of great help. It has taken away any anxiety I have because I recognize the providence of God and His ability to rescue us from any calamity.
6 I stretch out my hands to thee;
my soul thirsts for thee like a parched land.
7 Make haste to answer me, O Lord!
My spirit fails!
Hide not thy face from me,
lest I be like those who go down to the Pit.
8 Let me hear in the morning of thy steadfast love,
for in thee I put my trust.
Teach me the way I should go,
for to thee I lift up my soul.
The desire of the human heart is for God. Our soul thirsts for Him. The enemy however wishes us to not recognize God. He wants us to go down into the Pit, into Hell. However, we must continue to seek to follow God and praise Him because we know He has been faithful in the past and will be faithful in the future. We ought not let ourselves be deceived by the enemy.
9 Deliver me, O Lord, from my enemies!
I have fled to thee for refuge!
10 Teach me to do thy will,
for thou art my God!
Let thy good spirit lead me
on a level path!
11 For thy name's sake, O Lord, preserve my life!
In thy righteousness bring me out of trouble!
12 And in thy steadfast love cut off my enemies,
and destroy all my adversaries,
for I am thy servant.
David ends his prayer by remembering God's righteousness and unwavering love. He knows that God will deliver him and destroy his enemies. Therefore, he needs to submit himself to God's will, so that he can help God in all he is seeking to do.
I encourage everyone to pray Psalm 143 so that we too can be delivered from the enemy and meditate upon God's great works in history.